This story starts at the University of Washington, heads off to Europe, comes  back to the Seattle art world, then moves on to New York City, the fierce battles of the Culture Wars, and his life in Bali today, while reminding us of our continuing need for vigilance, activism, and courage.

Fifty years ago, David Mendoza and I graduated in the same year from the same university with undergraduate degrees in the same subject, art history.1 As the official "Alum in Residence" at the University of Washington's School of Art + Art History + Design for the 2016-2017 academic year, I invited David, who has remained a friend, to come back to the school and join me in a conversation about what he's done with the years since we graduated.
So, on November 21, 2016, he and I sat in the school's Jacob Lawrence Gallery with an assembled group of students, faculty, staff, and community members. My opening question to David was, "So, what have you done with your art history degree?" As he told us the story that follows, it was clear that he'd given the question a lot of thought in advance. And no one wanted him to stop once he got started.
 A resume can tell you that David has been director of the Foster/White Gallery, executive assistant to the chair of the New York State Council on the Arts, the first director of Artist Trust, the first executive director of the National Campaign for Freedom of Expression, and a long-time board member of Art Matters foundation. He has lived on Bali since 1998, where he produces a line of clothing and home goods with a focus on natural dyes, handmade batik, and preserving traditional craft techniques of Southeast Asia.
But the real story can't be captured in a resume. It's full of twists and turns that affect a life forever, of people and events encountered unexpectedly, and of the power of following both your dreams and your intuition and fighting for what you believe in.
You can read his story below or download it here.
Anne Focke
---
What did you do with your art history degree? – a memoir
David Mendoza 
November 21, 2016
Fifty-three years ago today, November 21, was a Wednesday. The next day about noon, and late as usual, I was running across the Quad to a class in Parrington Hall when I ran into one of my pals running in the opposite direction. He said, "JFK has been shot," and kept running. That was 1963.
DEGREE
I graduated in 1967 during a tumultuous time in our nation and on campus. I started at the UW as a Business major, switched to Architecture, then to Interior Design, and, after being called to a meeting with Professor Warren Hill, switched one more time to Art History. Warren – we became friends later – was a professor in Interior Design, and he, shall we say, urged me to switch majors. I couldn't draft – same problem in architecture. So I surveyed my accumulated credits. Not only did I have quite a few credits in Art History – including architecture and design history – but I'd earned good grades and loved the subject. So, here I am, all these years later, talking to you as an ancient alum.
•
I was trying to finish my art history thesis for our brilliant professor, Lawrence D. Steefel, while experimenting with pot and listening to Sgt. Pepper. The topic of my paper was Dada, and in retrospect it was a very Dada time with the Vietnam War (or American War as the Vietnamese call it) and the cultural revolution (the eve of the "Summer of Love"). Studying the Dada artists, their performances, and their anti-war positions all tossed together with the world around me meant that, in early May 1967, I found myself unable to fashion a coherent thesis paper. As the month rolled by and the deadline for turning it in approached, I had pretty much decided that after five years of university and lots of credits, I was not going to graduate and get a degree. My focus turned to how I would explain all this to my parents who had struggled to help pay college costs for me – the first in our family to attend.
The topic of my paper was Dada, and in retrospect
it was a very Dada time.
Probably through a combination of wine, pot, angst, and itchiness to get out of school and into the "real world," I decided to make an appointment with Professor Steefel. I still can remember clearly that day – nervous, resigned to reality, and eager to get it over with. I actually prepared some notes to try to explain what had happened to me. These included references to lyrics on Sgt. Pepper as well as Dada history. It was a long meeting, maybe two hours. He asked me questions, and we had a very expanded discussion. I thanked him and left, feeling relieved that the meeting and my college career and degree were over.
•
About a week later, grades were distributed. When I opened mine, I found that Professor Steefel had given me an A and the five credits I needed for my degree. I was in shock. In just a moment, my whole life turned a new corner.
EUROPE
After working as a waiter to make money, I left for my grand tour of Europe in the fall of 1967. It was time to see all the paintings, sculpture, and cathedrals I had only seen projected from slides on a screen. Being the romantic that I realized much later I was, I decided to go to Europe by ship. So I took a train across the U.S. to New York City and Grand Central Station, never having been before. Once there, I immediately got off the train and into a taxi that took me to the 40th Street piers to board the S.S. France. Nowadays, the only place you see the scene I encountered is in old movies – crowds of people, some boarding and some saying good bye to departing loved ones. Like in the movies, the France departed in the late afternoon and, as we passed the Statue of Liberty, we were all standing at the railing admiring New York City.
 •
My eight months in Europe started in London visiting museums and castles and seeing some theater, and then continued on to Amsterdam and Vermeer, Rembrandt, and Van Gogh. My plans to take a train from there to Paris changed at a party hosted by someone I met in Amsterdam where I met a good friend of the host. An American woman, older than me, she had just arrived from Stuttgart where she had bought a new Porsche. Apparently, she did this every year. I told her my plans, and she said, "Why don't you ride with me instead to the south of France?" I hesitated, but my host said, "Don't be crazy. Marilyn knows France very well. You would be lucky to have her as a guide, and you'd get a free ride as well!" So I did.
This is just what the doctor ordered for my romantic
"tour de France."
Marilyn had rented an apartment in a small village near Nice named Haut-de-Cagnes. She had visited several times before and had fallen in love with a woman who lived there. I stayed with her until she helped – pushed – me to find a room. The village was magical, one of the so-called villages perchés, or "perched villages," high above the Mediterranean. There were no cars, only steep and winding walkways, and a gathering of expats and French, Bohemian and worldly. This is just what the doctor ordered for my romantic tour de France.
•
One rainy day about a month after I arrived, I was walking across the plaza in front of the Chateau. I saw a black man with a suitcase and typewriter case talking to one of the old French women in black who lived there. As I approached I heard he was American and did not speak French so I approached to ask if I could help. He said, "Oh, are you American? Do you speak French?" I said yes and helped him find the apartment he had rented in the village. He had just arrived via Marseilles from Africa and had come to write a book. His name was Alex Haley, and he was grateful for my help.
•
Being an "old timer" in the village by then, I helped Alex get settled and, over the next few days, showed him around and introduced him to Marilyn. We three had dinners and wine and chats. Alex told us he was writing a book that traced his African-American ancestors back to Africa before they were brought as slaves to the U.S. Marilyn and I looked at each other skeptically, but Alex was a great storyteller and he proceeded over these meals to tell us bits and pieces of what he had found. His stories were filled with people who had names like Chicken George, Kunta Kinte, and Izzie. While in Africa, he told us, he had recorded griots, storytellers who were the keepers of family and tribal history.
•
Sometimes, when I visited him for a meal and wine, he would tell me more of these stories sitting in front of the big stone fireplace, and I still found his tales far-fetched and unbelievable. I began to think of him as "Uncle Remus." At that time, Alex had a reputation as a celebrity interviewer for Playboy magazine and also as the author of The Autobiography of Malcom X. This meant that, from time to time, he had to return to the U.S. to interview someone for Playboy – and to make some money. When he left he offered me his apartment to save money from my travel budget. In exchange I helped transcribe some of his audio tapes on his old typewriter.
•
One time, when Alex was away the phone rang and a hoarse voice asked, "Alex?" I replied that he was in the U.S. The caller was James Baldwin, on his way to the south of France. He wanted to meet up with Alex who had discussed doing an interview with him. James had a bad cold and was in a bad mood. His French then-boyfriend had left him in London. James was looking for the boyfriend, whom he suspected was somewhere down here near Nice. After that trip, James fell in love with the area and rented a villa in Saint Paul du Vence, a village higher in the hills than Haut de Cagnes and famous for a Matisse Chapel. Baldwin lived there until he died.
 "Thank you for your help and friendship here in Haut de Cagnes
while I am writing
Before this Anger
." – Alex Haley
Although I was very happy in that village and didn't want to leave, Alex encouraged me to continue my journey and my adventure. He was right. On departing he gave me a paperback copy of The Autobiography of Malcolm X and signed it, "Thank you for your help and friendship here in Haut de Cagnes while I am writing Before this Anger." That was his original title for the book that later became famous as Roots: The Saga of an American Family.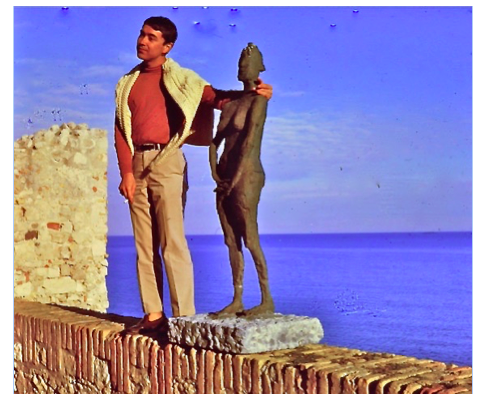 SEATTLE AGAIN
When I returned to Seattle in April 1968, the "anger" that Alex referred to was in full force. Continue reading →