The Jini Dellaccio Project, a fiscally-sponsored project of Artist Trust, focuses on possible roles that artists and others can play as they inhabit the mostly undefined stage of life beyond "retirement." The project complements Artist Trust's existing program on artists' legacy and estate planning, but rather than being focused on artists' property (tangible, intellectual, financial), the Jini Dellaccio Project emphasizes the living person in their upper decades. It explores ways to enhance their ability to continue as engaged, contributing members of the community while they're still alive. Financial support for the project – its fuel – comes from individuals who have the ability to give and are interested in where it will lead.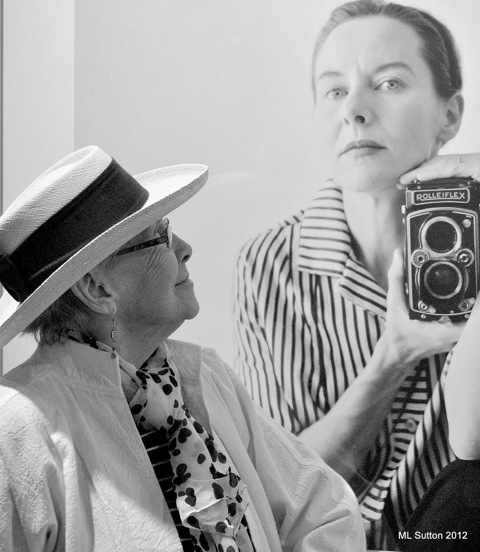 As I enter my own eighth decade, I'm excited to be developing this three-year project, and I'm inspired by the spirit of Jini's life. She chose her own course, right through her last decades. Born in 1917, she died in 2014 at age 97. She toured the country as a musician in an all-girl swing band in the 1930s, studied painting at the Art Institute of Chicago, and took up freelance fashion photography in Los Angeles in the 1950s. After moving to the Northwest in the early 1960s, she began photographing young rock and roll musicians like the Wailers, the Sonics, and Merilee Rush and the Turnabouts, often in lush, natural surroundings. These, along with iconic images of national musicians like the Who and Neil Young, defined her career. After caring for her husband through the last years of his life, she picked up her photography again, adding a digital camera to her repertoire in her late 80s. You can learn more about her here.
«•»
The intention of the Jini Dellaccio Project is to do reconnaissance into the phase that anthropologist Mary Catherine Bateson called the "age of active wisdom" and to identify and provide a picture of the possibilities of life after Mark Twain's "seven-terraced summit." Like Jini, many of us aren't ready to stop when we reach the "official" retirement age, and often we can't afford to. We still want to participate, create, and contribute to the communities and world we live in. Simply by virtue of living as long as we have, we have perspectives that can be useful launching points for contemporary thinking.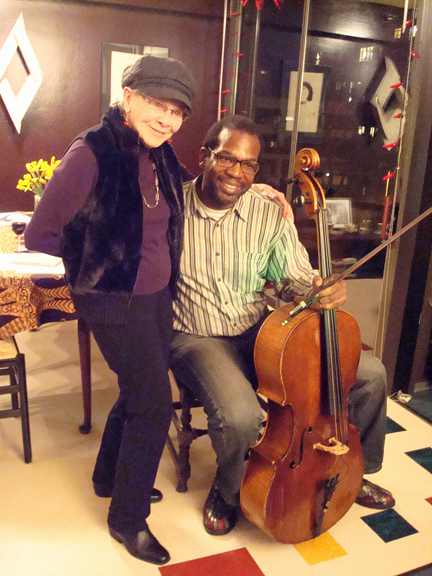 In 2010, Artist Trust invited me to moderate a panel discussion, "Better with Time: Creativity and Aging," where I met Jini for the first time. At the same event I met Sarah Cavanaugh, who stood by Jini's side through Jini's last years and has been a co-conspirator on this project from the start. The panelists that day also included choreographer Donald Byrd and sculptor Akio Takamori. The session announcement identified the panelists as "artists who have continued to create new work through the tides of personal and societal change," and it posed a question that is among those I want to pursue: "Does society benefit from artists who create art throughout their lifetimes?"
«•»
So what will actually happen?
Beginning this September, project activities will include but won't be limited to the following:
"Office hours."  Tea time, coffee breaks, office hours, happy hour – these conversations can take many forms and can involve artists and anyone else who wants to use me as a sounding board, pick my brain, or try out new ideas. One-to-one or in small groups, we can talk about anything. I'm reserving two afternoons a month for "office hours" at Artist Trust, and they'll be available by signing up or, if the schedule's empty, on a drop-in basis.1 Like so many other people my age, I seem increasingly to be asked for advice, for stories about the "olden days," or simply for the chance to puzzle over a problem together. I think of these conversations as two-way exchanges because I always learn something in the process. By being a little more intentional about them, I expect to learn more about the value of having a long view and of offering that perspective to others.
Group discussions and public conversations. Group discussions play a big part in how I learn and how I share my experience and interests. I've hosted conversations in various formats for a long time, usually organized with others. Always informal and participatory, some will be single stand-alone events, others in series; some are public forums, others small and held in safe spaces that allow deeper exploration of ideas. Conversations already underway may continue, such as "Penny U" begun in the fall 2014 with Town Hall focused the changing nature of work, with its implications for both artists and people beyond retirement age. In hosting these, I expect to collaborate with others, from individual artists to Artist Trust, Town Hall, and the University of Washington School of Art + Art History + Design.
Personal and public writing. I will write. I'll make time for it and use it to capture what I hear, connect it to what I already know, and make the ideas hold still long enough to see what they might mean. Themes won't be limited to age and aging. My time as an editor and "translator" between fields convinces me that big ideas can be put in plain language so more of us can understand them, argue with them, or put them to use. And I'll find ways to share what I write. I've laid groundwork  with this website, but the effort may expand to other forms – such as broadsides and chapbooks, or as the focus of conversations and groundwork for a book.
History through today's eyes. With assistance from students and others, I'll sort, organize, and find homes for original materials that I've accumulated over the years. Currently in storage, these include documents and ephemera from and/or, Artist Trust, Artech, Arts Wire, early artist fellowship programs, Grantmakers in the Arts, and more. Much of the material comes from a period of change in the art world. It covers, for instance, a time when artists decided not to wait for others to offer them opportunities but to take an active role in creating the conditions they wanted. (Sounds a little like today, doesn't it.) Along with simply bringing some order to it, we'll consider the relevance of this history in today's world. The results will be fodder for more writing and conversation.
Although we'll start with these activities, the project will be malleable and we expect it to change in response to what we learn. We'll design it as we go.
«•»
1 Beginning in September, my office hours will be 2-5 pm on the 2nd and 4th Wednesdays of the month. Sign up by sending an email to Artist Trust.
---