An introduction
In which I provide context and describe how the internship came to be.
Wade through history with me.

Since leaving the University of Washington in 1967 as one of its first art history undergraduates, I've lived through a lot of history. During this time, I've accumulated many boxes of files and ephemera, some of it already in the UW Libraries Special Collections, much of it in my own storage. And all of it in need of culling, sorting, and indexing. You will help me make sense of it. Not only will we learn about archival procedures and working with primary source materials, but we'll pause as we go through the material to consider what it means, whether it matters, and how it connects with the world we know today. We may also write and host conversations about what we find.
Excerpts from my description of an internship position offered to students at the UW School of Art + Art History + Design for the academic year, 2016-2017
Clearing out my storage unit was part of my plan to make the most of my year as Alum in Residence at the School. The opportunity to work with a student intern would make it possible, and the student would receive course credit for the work. When I began to work through the details with Liz Copeland in the School's advising office, she asked me, "Well, how many interns would you like?" Whoa! I thought. I'd imagined just one, so I cautiously said, "OK, how about two."
I interviewed five remarkable applicants that first quarter, and with difficulty selected two … Karen Beech, an art history student, and Jessica Capó, an art student. They continued with me through the entire year and helped me decide that we could handle two more. After another difficult selection process, Zach Heinemeyer (art) and Lizzie Trelawny-Vernon (art history) joined our team in January. Zach graduated at the end of winter quarter, but Lizzie stayed with us. And at the start of spring quarter, Abigail Cloutier (art history) signed on. What a grand gift I'd received with such a team!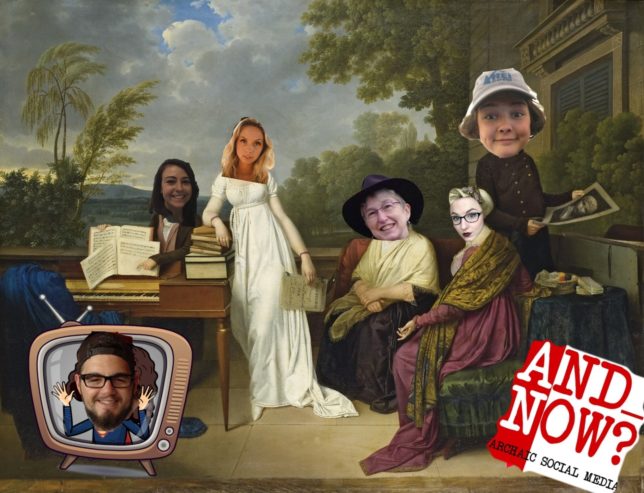 Rather than tackle my entire storage unit, I chose one project and carted 9 or 10 of the 16 banker boxes of Arts Wire material to my office at the School. Arts Wire, which I founded in 1989, was an early online network for the arts community nationwide – artists, arts organizations, arts funders, state arts agencies, and more. It introduced many arts folks to this "new" communications technology and provided an essential national connection for us on the often tumultuous issues in the arts community during those years – the culture wars around censorship, the rise of the AIDS crisis, congressional debates about arts funding, and the increasing role of "multiculturalism" (the term of the day). Though Arts Wire continued after I left, my involvement, and hence the materials I have, continued until about 1995.
The intern team took up the challenge of inventorying the contents of the boxes with a ferocious enthusiasm and commitment. Although we didn't even get through  half the boxes that year, both they and I learned a lot about archives. I now have a better foundation for future work on both Arts Wire's files and all the other boxes still in storage. We also engaged in many conversations about the material. Among the things we discussed were: How does something like Arts Wire get started? What is an artist? What was life like in the early days of the internet? How has it changed our lives? What is archiving, what's permanent and what deteriorates? How are our times different from and the same as times 25 years ago, especially for the arts and artists? What is history, when does it start? "This is history, and yet you're still alive!" Indeed, for this archive project, most of the primary participants are still living and available to answer questions and tell stories that weren't captured in the files.
The team came to believe that what they were learning is important beyond just the development of an inventory for archives that would go back into storage. As a result, they created ways to share what they've learned:
They took over the School's Instagram account and shared their Arts Wire work.
They organized an exhibition about the material at Parnassus (the coffee shop in the basement of the UW Art Building).
They produced a podcast with 14 episodes consisting of conversations among themselves and interviews with people from around the country (and Bali) who were involved with Arts Wire.
They organized, with me, an event in late June at the Jacob Lawrence Gallery in the Art Building. It included an exhibition of papers and other artifacts found in the files, accompanied by a well-attended conversation about Arts Wire.
And, they wrote the papers that are posted here.
AND_NOW?
All of these Arts Wire programs were presented under the name, "AND_NOW?" The intern team had clear reasons for choosing this rubric for their projects. They discovered the phrase first when they saw it being used as the opening prompt on Arts Wire's main screen, the Hub. But it came to mean more than that. In a podcast interview with David Mendoza, Karen explained:
We've titled our podcast AND_NOW?

"What comes next?" is essentially the question we're asking ourselves now. We're trying to draw that link, from Arts Wire and the culture wars and all the things you're talking about, to the present moment. And you've made that really, really clear in this conversation, of how these things do relate to one another and that we are seeing history repeat itself and that we need to be doing something. Right!  Things were done before that had really positive impacts. They helped to waylay some of the damage that might have been done by the political climate of the time, and we're needing to take some of those same steps now.
Four of the people who worked with me over the past year wrote essays based on some aspect of their experience as interns. They've all agreed to be guest authors and to let me post their pieces on this site:
They follow as separate "guest author" posts, and they all demonstrate the value of mixing history and the present.
Other posts about Arts Wire and the Alum in Residence program include:
---